Review Lipe Koh Lipe, Satun Province, is an island in the Tarutao Marine National Park. Is at the southernmost boundary in the Adang-Ravi Islands, located in the west of Koh Tarutao When thinking of Koh Lipe What do you think first? White sandy beaches, clear blue waters, food, accommodation, today we will introduce places that must be visited when visiting. Let's go to Lipe. Where are there places? Let's see.
After going to Lipe like that, everyone probably knows that Koh Lipe has 4 beaches together, which are Sunrise Beach, Pattaya Beach, Karma Beach and Sunset Beach.
Sunrise Beach : is a beach located in the northwest of the island. can relax in the atmosphere of the sea Going to swim in the sea or sunbathe on the white sandy beach is just as happy. The highlight of this beach will be the sunset view point. another beautiful beach
Pattaya Beach : It is a very busy beach on Koh Lipe. The beach has beautiful white sand. fine sand along the beach to the cliff It is a tourist destination suitable for relaxing by the beach while watching a romantic sunset.
Karma Beach : is a beach located in the north of Koh Lipe. Facing to Koh Adang It's next to Sunrise Beach further north.
Sunset Beach : is a beach in the northwest of Koh Lipe. The beach faces west. It is another point on Koh Lipe where you can watch the sunset beautifully. Sunset Beach It is the smallest beach and has fewer accommodations than other beaches. Focusing on the atmosphere of tranquility and privacy.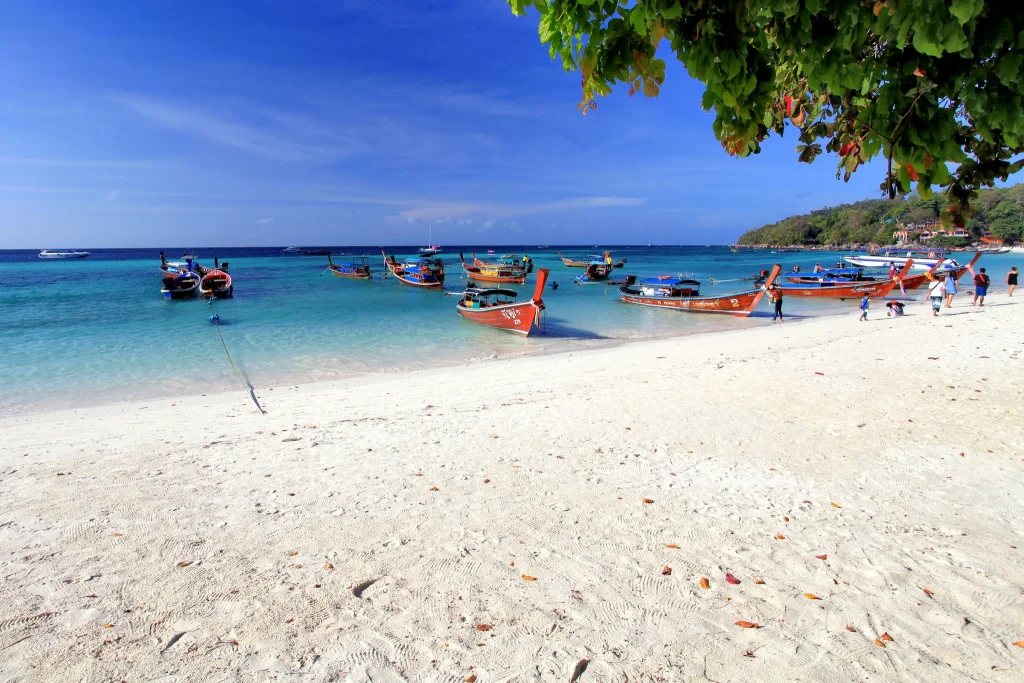 Popular restaurants with Lipe reviews
Today I will review various restaurants. Within Koh Lipe, there are many restaurants of many nationalities and what are the popular dishes that we will give you a review of Lipe today, which restaurants are worth checking out? Follow us to see.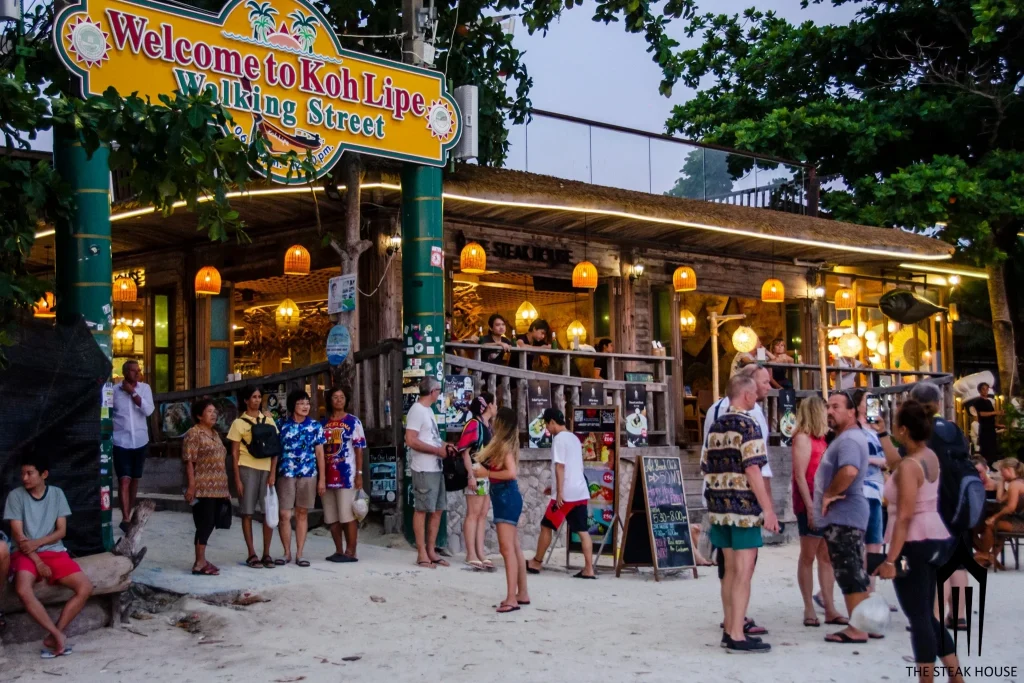 1. Walking Street travel to lipe Initially opened with Walking street will be held on the road in the middle of the island connecting Pattaya Beach and Sunrise Beach. There is a distance of about 1 kilometer, along which there will be many products sold to tourists. Seafood restaurant or dessert shop, Roti shop, various kinds of water shop There are souvenir shops, restaurants, local product shops, coffee shops, 7-ELEVEN, bookstores, diving equipment rental shops. Art stores, pharmacies, etc. to choose from. many to choose from The walking street will start from 6:00 p.m. to 12:00 a.m. every day. Anyone who wants something can walk and find each other on this street.
2. The Steak House The restaurant is in front of the beach, next to the walking street, a meeting point for food lovers where you can enjoy delicious food and a romantic seaside atmosphere with sunset at night. From now on, we will review Lipe with a steakhouse. European style food on Pattaya beach There are various steaks, burgers, Pizza and many other dishes. Let's have a try In addition to having food There are also drinks such as liquor, beer, cocktails, etc. Visit Lipe at night, meet with a fire show in front of The Steak House every night.
3. Sugoi Teppanyaki Japanese Restaurant Koh Lipe Review Lipe Japanese style restaurant. Proud to present a set of sashimi more premium size. Full and delicious with a large set of raw fish. That brought the parade to try And there is also a Japanese-style beef salad with Yuzu Ponzu sauce, guaranteed deliciousness. Followed by the seven-color lobster, which has firm meat, and most importantly, has a sweet and crispy taste as well, accompanied by a professional chef. The shop is open today from 13.00 – 22.00 hrs. Onwards.Which has firm meat, and most importantly, has a sweet and crispy taste as well, accompanied by a professional chef. The shop is open today from 13.00 – 22.00 hrs. Onwards.
It's over with Lipe review. How are you doing? Do you like it? If anyone has a chance to come travel to Lipe Do not forget to visit places that we have reviewed a lot. And share some experiences of traveling to Lipe. See you soon. May everyone be happy with the trip.
Ask for more room information on
0907676761, 0907676762
rsvn@thechiclipe.com