Tour Lipe 3 Days 2 Nights with a strong promotion to welcome the opening of Koh Lipe in front of High Season. But still don't know where to travel, follow us here. at Koh Lipe We have a trip to the island for 3 days 2 nights. I guarantee that an ordinary holiday will become a special holiday for you. Satisfaction guaranteed to customers with the best hostel on Koh Lipe, The Chic Lipe (The Chic Lipe).

Special promotion!! Welcome to the high season Hot Deal Package 3 Day 2 Night (starting price only 1,999 baht)
Standard Mixed Dorm room, price 1,999 baht
Standard Double Bed room, price 2,499 baht
Book from today – October 31, 2021 (** Stay from October 1, 2021 to November 30, 2021 **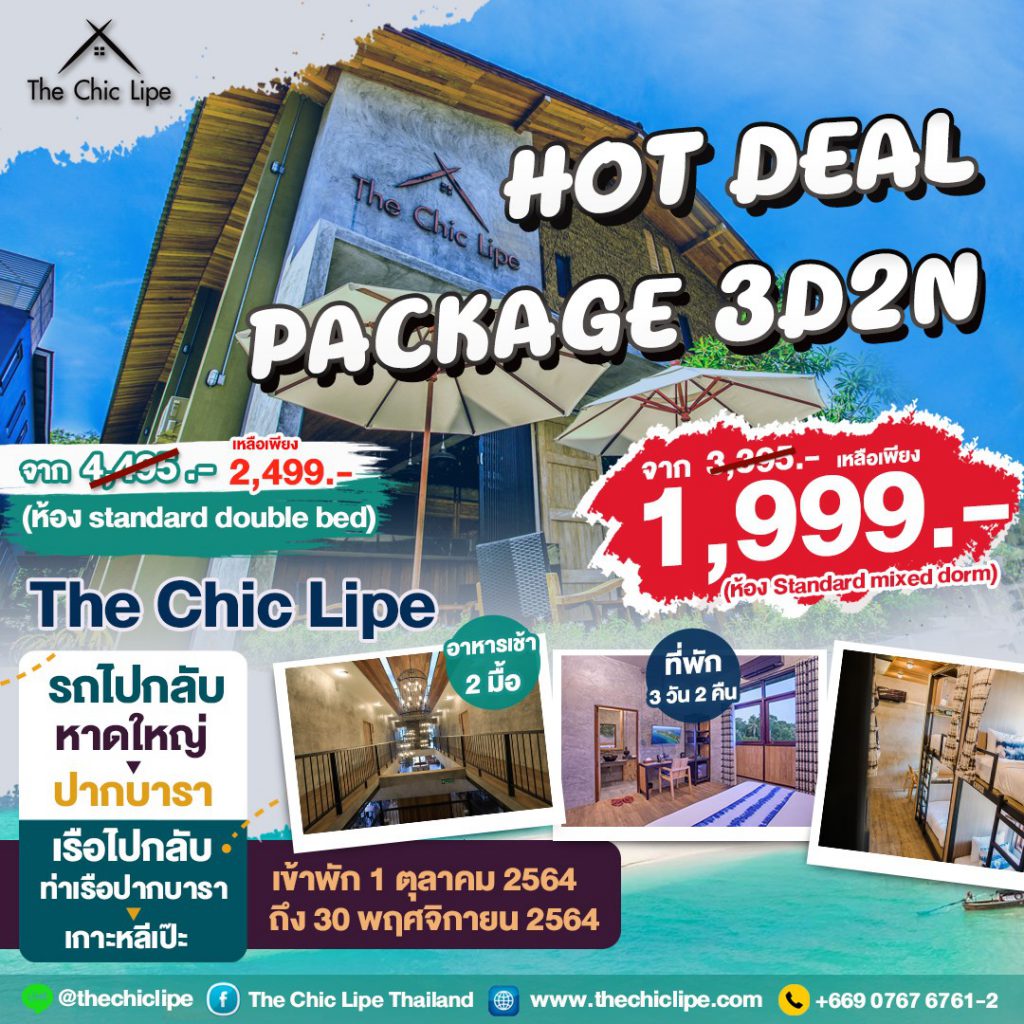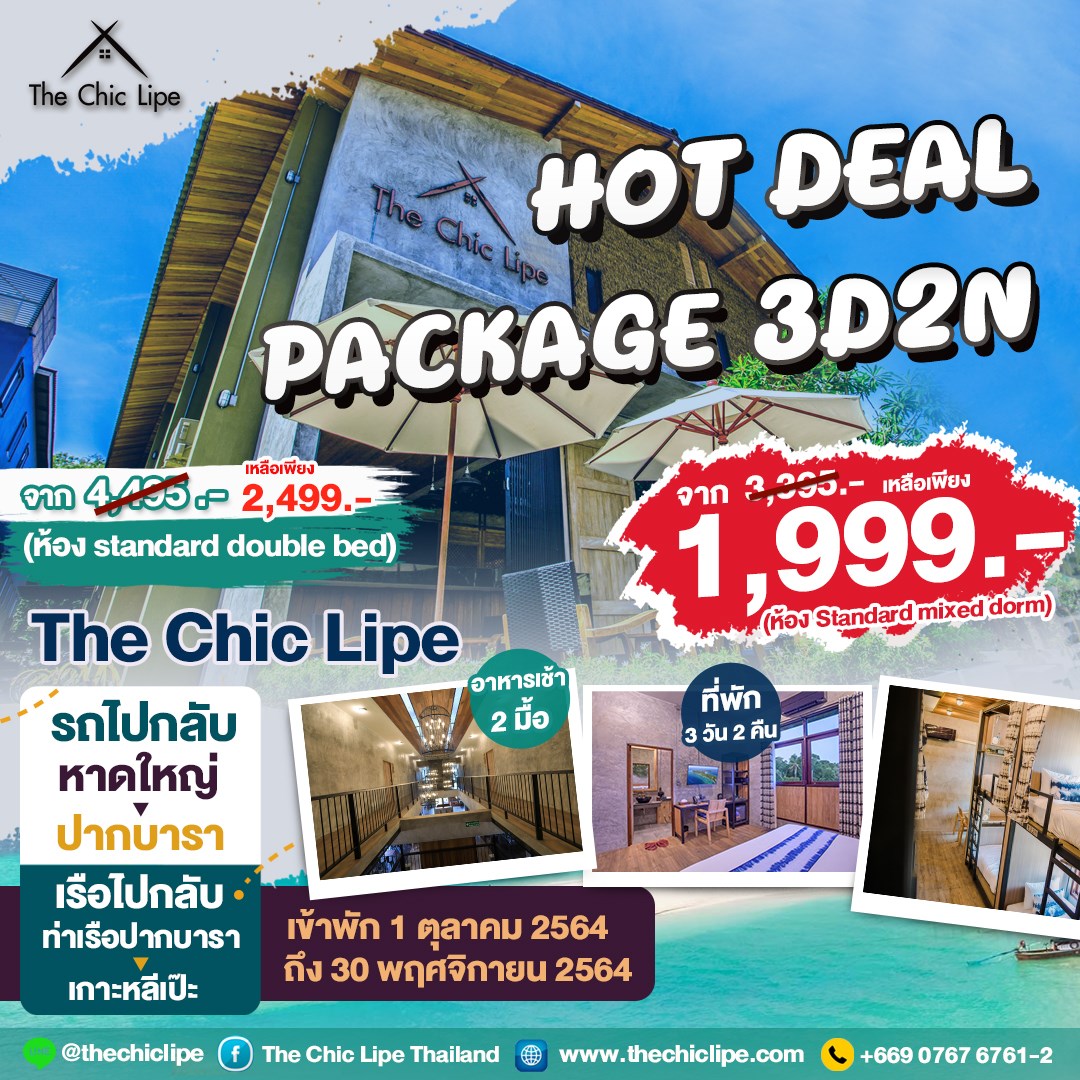 Travel program with a package tour of Lipe 3 days 2 nights
The Chic Lipe (The Chic Lipe : Number one hostel on Koh Lipe)
Day 1 : Hat Yai – Pak Bara Pier – Tarutao – Khai – Lipe Island
08.30 am. : Pick up at Hat Yai Airport by Join van.
09.30 a.m. : Depart from Hat Yai Airport To Pakbara pier takes 1.30 hours.
11.00 a.m. : Arrive at Pak Bara Pier Prepare to board a join speed boat
Stop to take photos of the natural stone archway. Tourism symbol, Satun province, about 15 minutes, heading to Koh Lipe.
13.00 : Arrive at Koh Lipe check-in to the accommodation
6:00 p.m. : Take a walk in the walking street. See the night atmosphere of Koh Lipe
7:00 p.m. : Free time / Good night
Day 2 : Rest at your leisure
If customers are interested in diving in the outer zone or inner zone Can be contacted at The Chic Lipe
Snorkeling trip in the outer zone, as beautiful as the inner zone, Koh Rok Loi is about 1 hour away from Koh Lipe. Clear sea water, gradient to the emerald green sky. It's very beautiful when it hits the sunlight. Makes it nicknamed "Emerald of the Sea" with white sandy beaches. And there are a lot of staghorn corals. It is often a stop for swimming, taking pictures with a private atmosphere. After finishing, come back to travel to Lipe.
Snorkeling trips around the inner zone, popular diving spots, Rong Nam Jabang, shallow coral reefs You can't miss it. It is a beautiful spot to see seven colored corals. Very strong current Hold on tight, everyone. Can dive in both Snorkeling and Scuba Diving. We go to Koh Hin Ngam. This island may not have a sandy beach.
Day 3 (Return) : Koh Lipe – Pak Bara Pier – Hat Yai Airport
08.00 a.m. : Have breakfast
9:00 a.m.: Pack your luggage and prepare for check out.
09.30 hrs. : Get ready to board a join speed boat to Pak Bara Pier.
11.00 a.m.: A join van will pick you up at Pak Bara Pier. (stop to buy local souvenirs from the pier)
11.30 : Depart from Pak Bara Pier to Hat Yai Airport.
13.00 : Arrive at Hat Yai Airport safely.
***Programs may be changed as appropriate depending mainly on weather conditions and safety*
Additional itinerary details
โฮสเทล หลีเป๊ะ พักยกก๊วนบนเกาะหลีเป๊ะ
คู่มือเที่ยวหลีเป๊ะ ปี 2021

(จองที่พักหลีเป๊ะ >> สอบถามข้อมูลเพิ่มเติม)
Tel : 0907676761, 0907676762
LINE : @thechiclipe
Facebook : The Chic Lipe
Website : www.thechiclipe.com
Email : rsvn@thechiclipe.com