A new Thai-Isaan restaurant, Papaya Salad Hua Mai, opened on Koh Lipe. (The shop is directly across the street from The Chic Lipe Hostel.) Open for service for everyone to taste the spiciness today from 11:00 a.m.–9:00 p.m. at Koh Lipe Restaurant. There is a wide variety of food to choose from. It is a favorite among Thais and foreigners. Due to the intense taste of papaya salad, spicy, authentic Isaan style. Everything is delicious. It's the best, both with and without fermented fish; definitely the best menu of the restaurant. It's inevitable that fresh shrimp salad, salmon salad, corn salad, seafood soup, fried chicken, grilled catfish, and grilled pork neck are soft and sweet. and other menu items All Isaan dishes are included. The highlight is the pickled fish from the restaurant. Fresh, fragrant, and clean Serve with a spicy salad. have a variety of menus As for the drinks, the shop has a variety of options to choose from. The atmosphere inside the shop is decorated comfortably. With a chill atmosphere and the Somtum Hua Mai restaurant, Koh Lipe is a restaurant that should not be missed. delicious food at a comfortable price. good service staff I recommend eating with others. guarantee that you will definitely be satisfied back home.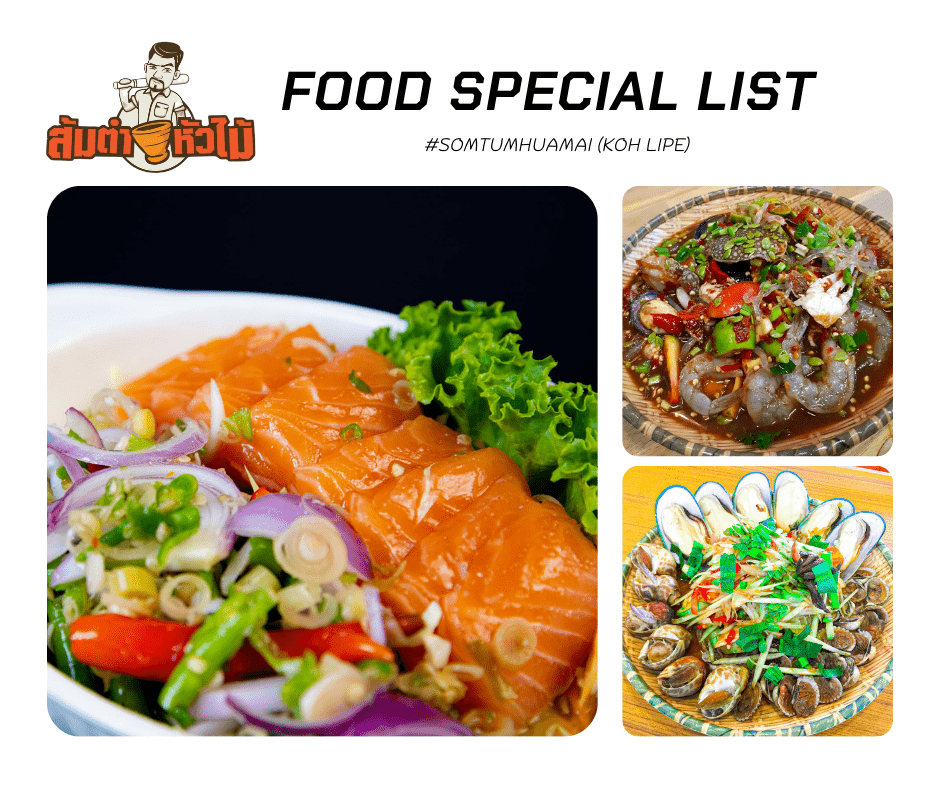 Food Special List (รายการอาหารพิเศษของทาง : ส้มตำหัวไม้)
visit Lipe sometime. In addition to going to the beach, you shouldn't forget to eat some delectable dishes like Thai food – Isaan Fusion, which has a chic, authentic flavor from the original recipe. Like Som Tam Hua Mai Koh Lipe, at a cost that everyone can afford.
Salmon Salad : The Salmon Salad dish is one that anyone who enjoys spice would suggest. Include Thai herbs like garden chili, shallots, Thai garlic, and lemongrass. kaffir lime leaves in a narrow alley, as well. Pour down the hot salad. The key to eating wonderfully is to eat it as soon as possible and not to wait too long. It is a cool menu to greet Thailand's summer so that our salmon is still fresh and the color does not alter.
Fresh Shrimp Salad : The best menu for papaya salad. intense flavor spicy, tasty, and fragrant. Crispy papaya pounded with fresh prawns and shrimp, which are sweet and fresh. immediately makes something delicious-tasting. Moreover, there is the papaya's crunch. It can be made even more delectable by adding fermented fish sauce and other flavors.
Tum Hoi Lom Dao : Another recommended menu of the restaurant, Tum Hoi Lom Dao, fresh and clean oysters. If you don't order, you will definitely miss it.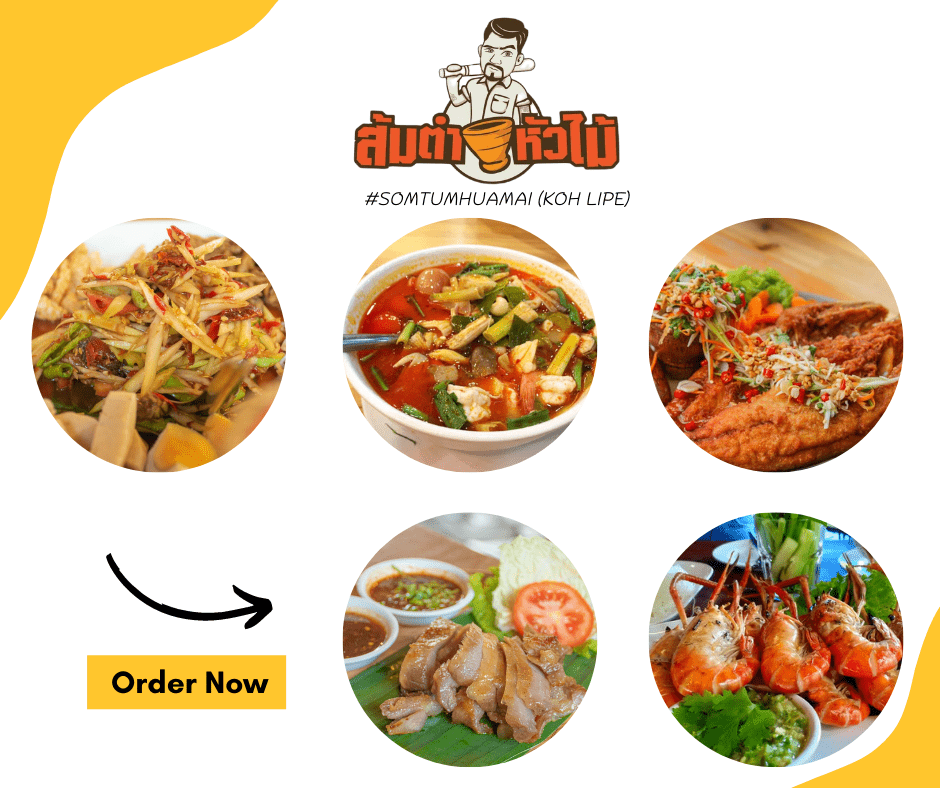 Frequently asked questions (FAQ)
Q : Somtum Hua Mai restaurant, Koh Lipe branch, where is Koh Lipe?
A : The location of the shop is opposite The Chic Lipe Hostel (The Chic Lipe).
Q : Papaya Salad Hua Mai Restaurant What time does the Koh Lipe branch open?
A : The shop is open from : 11.00 am. – 21.00 pm.
Ask for more information